Collection highlights: Philistine sarcophagus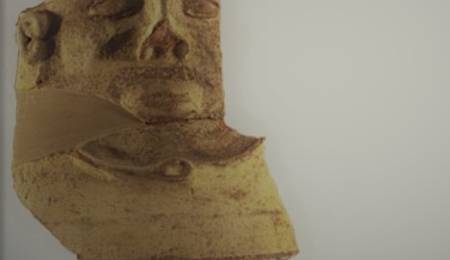 24 aprile 2020
In the area of the northwestern necropolis of Neapolis (the current S. Maria de Nabui (Guspini – South Sardinia), Antonio Rasenti in 1974 and Raimondo Zucca in 1975 found two matching fragments of a ceramic vase with anthropomorphic face.
Raimondo Zucca originally thought that the artefact belonged to the Punic production of anthropomorphic vessels, even though he found chronologically previous parallels in the iconographic representation of ears with a mask of Hazor (Palestine) dating from the 13th century BC.

It was Piero Bartoloni in 1997 who gave a new interpretation related to the anthropoid Philistine clay sarcophagi, very common in Palestine between the 13th and 11th centuries B.C., assuming the stable presence of Philistine people in Neapolis, in Sardinia, since the artefact doesn't belong to the athyrmata but to the category of containers of the deceased, hardly commissioned by a culturally distant subject.


Even now, the debate among scholars is still heated...